Many family history researchers have a lot of information on their ancestors. But it is not easy to bring this together into a good looking and informative family tree you can share with your family. This is why, in addition to our research services, we offer a family tree design service.
The first thing we do is create a digital file with all your data records. If you already have your data digitised, this might be a case of simply transferring the data, but we can also provide a data entry service.
The next part is to – together with you – decide on a design. These are not "off the shelf" designs: we work together with a professional designer to create a unique, customised design for you. We will help you choose the best format: Ancestor (central person at the bottom), Descendant (central person as the top) or Hourglass (a combination of the two). We will discuss with you the number of generations to include; if you want to include siblings or additional information such as profession, location they lived, etc. We will give you options on sizes, backgrounds, inclusion of pictures, heraldic images, etc.
Finally, we will produce the tree. If you prefer to get the tree printed locally, we can provide you with printer ready files. Alternatively we can get the tree printed for you on high quality paper. We can also get the tree mounted, if you want to hang it up or present it as a gift.

Contact us for a beautiful family tree design
We can also present your family story in a booklet.

If you have a great story to tell about an ancestor, a family tree might not be the best medium. Our booklets contain a lot of detail, background information, pictures, newspaper clippings, etc. And of course all the genealogical information. In the example below we tell the story of Edward Smith, who had a difficult start in life as the "illegitimate" son of a single mother. Raised by his grandmother, he fought in The Great War, and became a successful policeman afterwards.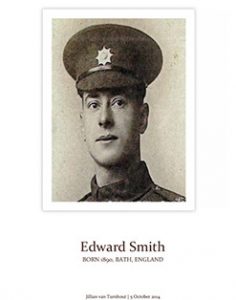 Our booklets are also perfect as a gift idea.

Contact us for your own family history booklet
Other presentation formats.

If you want to do something different, talk to us. For example, we can create a fantastic video of a facet of your family history. This example tells the remarkable story of three generations of one family who all emigrated to the same town in the USA. Videos are of course ideal for sharing via social media.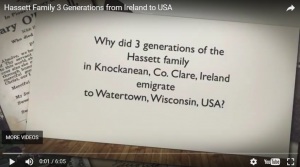 Play Three Generations Video (YouTube)

Video is just one option, we can do many other formats.

Contact us to discuss your presentation needs

Think the family historian among your friends or family could use some help creating their tree? Why not give a voucher?