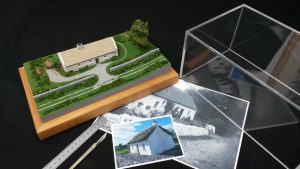 Nothing compares to the touch and feel of your own personal Irish family homestead
Hand-crafted in Ireland, these bespoke replicas are created using accurate information gathered during the research part of our service.
Imagine the pride you will feel when showing your family or peers one of these exquisite trophies of home, either in the Boardroom or seated at the Dinner Table.
Nothing says "Look how far we have come since our forefathers left Ireland, all those years ago", in the way that an accurate Irish homestead replica does.
Anything is possible, the homestead as it was in its heyday, how it appears now or even the whole village your family came from can be replicated.
Be proud of your heritage, show it off!
Contact us if you would like to find out more or have a look at the rest of our website.