Cobh, pronounced Cove and previously known as Queenstown, is near Cork in the South West of Ireland. It is well worth a visit if you are in the area.
First of all, it is a a very important port in the history of many Irish families. Of the 6 million Irish who left Ireland between 1848 and 1950, 2.5 million left from the port of Cobh. If you are doing your research, please note that Cobh was renamed Queenstown after the visit of Queen Victoria in 1849. It remained so until the early 1920s and the formation of the Irish Free State.
Titanic
The port is also famous as the last port of call for the ill-fate Titanic. The tenders "Ireland" and "America" brought 123 passengers to the ship from Cobh . Seven lucky passengers disembarked at Cobh including Jesuit priest Father Francis Browne and the Odell Family. Their photographs, taken aboard, are now world famous. Of the 123 passengers, 79 perished. There is a fantastic museum (there is an admission fee) in Cobh telling their story, located in the original departure building. We have included a link to their website below.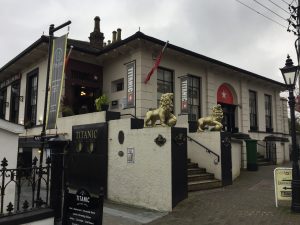 http://www.titanicexperiencecobh.ie/
Lusitania
Only a few years later, in 1915 1,198 people perished when the Lusitania was sunk off the Cork coast by a torpedo fired by a German U-boat. Only 289 bodies were recovered. 169 were buried in the Old Church Cemetery just outside the town in three mass graves while only 20 were buried in individual plots.
Cathedral
Dominating the town is the Roman Catholic Saint Colman's Cathedral that is perched on the hillside. It is a magnificent neo-Gothic building that took 47 years to build, starting in 1868. For many Irish emigrants, it was the last bit of Ireland they would ever see. (Click on photo to see a larger picture).
We hope you enjoyed this. Why not have a look at the rest of our website?