Click on the photo for a bigger picture or scroll down for the text. 
We visited the magical miniature world of Tara's Palace Childhood Museum at Powerscourt House, Enniskerry, Co. Wicklow, Ireland. The Museum is home to Ireland's Largest Period Doll House, Tara's Palace. Each of the 24 rooms in Tara's Palace is 1:12 in scale. They are furnished with miniature masterpieces, hand painted ceilings and hand crafted wooden and marble floors. We brought a 3 year old boy and 8 year old  girl who both adored it.
With Tara's Palace as the centrepiece, the Museum also contains hundreds of fascinating exhibits, including the amazing 17th century house in a bottle, the smallest doll in the world, and a 300 year old doll's house. There is a Museum Quiz, which is popular with all visitors and an interactive room for our younger visitors. Tara's Palace at Powerscourt runs events, family activities, school and group tours and children's birthday parties throughout the year.
The Tara's Palace Trust runs the museum to support Irish children's charities and to entertain and delight generations of children and adults alike. Each year the Trust donates any profits made by the museum to deserving Irish children's charities
For the official site, follow this link: http://childhoodmuseum.org/
We hope you enjoyed this. Why not have a look at the rest of our website?
Please share on Facebook and Twitter!
Dun Laoghaire is now a suburb of Dublin and is conveniently located on the "DART" train service from Dublin city center. It's an attractive village that thanks its existence to the harbour. The walk over the East Pier offers great views and a chance to stretch the legs.
We participated in the historic Harbour Walk, organised as part of the Summer Heritage program of Dun Laoghaire County Council and guided by local historian Rob Goodbody. Below are a few photos of what remains of the old harbour (it is now a Marina). Click on the photo for a larger picture and info. Below the photos, we have included a few links to the story of the harbour's history.
Please follow the links below to learn about Dun Laoghaire Harbour's history:
Booklet on Construction of Harbour
We hope you enjoyed our photos and the historic information.
Why not have a look at the rest of our website?
Please share on Facebook and Twitter!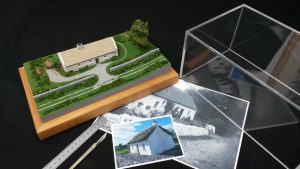 Nothing compares to the touch and feel of your own personal Irish family homestead
Hand-crafted in Ireland, these bespoke replicas are created using accurate information gathered during the research part of our service.
Imagine the pride you will feel when showing your family or peers one of these exquisite trophies of home, either in the Boardroom or seated at the Dinner Table.
Nothing says "Look how far we have come since our forefathers left Ireland, all those years ago", in the way that an accurate Irish homestead replica does.
Anything is possible, the homestead as it was in its heyday, how it appears now or even the whole village your family came from can be replicated.
Be proud of your heritage, show it off!
Contact us if you would like to find out more or have a look at the rest of our website.
Please share on Facebook and Twitter!