Sometimes only visiting the sites where your ancestors lived can give you that last bit of information. And provide the rich context of their lives. If you are not able to visit Ireland yourself, we can go and visit these sites for you and provide a report and especially pictures.
A site visit is divided in a number of focus areas:
1. Grave transcriptions and photography
First, if you know in which cemetery your ancestor(s) are buried, we will go and look for their grave. Gravestones are often very informative on the people buried and/or give other names to research. Provided we find the grave, we will provide you with a detailed transcription and photos of the grave and surroundings. It should be noted though that especially the poor often did not have a gravestone. In this case we will make photos of the cemetery.

2. Description and photography of your ancestral village or townland
A second area is the village or townland where your ancestor(s) lived. We will provide background information on the village or townland. Some buildings that were relevant to your ancestor(s) might still exist, such as a church they likely attended or a school where they learned to read or write (like the 1907  school in the picture below). If their house still stands, we of course include that. And we will take photos of all of these.

3. Local History
Then there is the history of the local area. We are members of a local history society and have been published in their magazines. We will include research into the local area your ancestor(s) lived to provide an overview of how it would have looked and what was happening there in the time of your ancestors. Below is a picture of Blackrock train station, one of the oldest surviving stations in the world. The coming of railways impacted hugely on where people lived and worked and how villages developed.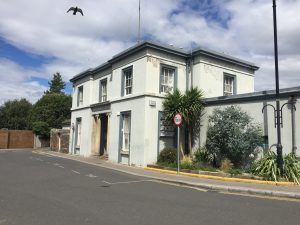 4. Report and files
Finally, we will bring together all documentation and findings of our research in a professional report and provide you with digital files containing all photos we have taken.

This blog contains a large photo gallery of Deansgrange Cemetery. Please give it a moment to load!
Deansgrange Cemetery is located in the local council area of Dún Laoghaire–Rathdown, a suburb of Dublin. It is open to the public. The cemetery is, together with Glasnevin, one of the largest in the Dublin area, occupying 65 acres. (So if you want to visit a particular grave, you should find out first where it is!). First burial was Anastasia Carey, 41 years, Servant St. Joseph's Orphanage, 27th January 1865.
Hover over the pictures below to see the title; click on them to see a larger picture and its story.
Disclaimer: Most of the stories in this gallery are from gravedigger "John", who told them to us during a "Dun Loaghaire Heritage Tour" of the Deansgrange Cemetery.  They come from relatives who visited the graves and some have been told from colleague to colleague and even generation to generation and might therefore not be accurate. They are certainly very entertaining. Thanks for the stories, John.
We hope you enjoyed these photos and their stories. Why not have a look at the rest of our website?
In 1834 a railway line was built connecting Dublin with Dun Laoghaire. People started moving out and the latter grew into a town. Among the newcomers were also Quakers. They soon built a meeting house in Monkstown and started looking for land for a Quaker Burial Ground. It would take 25 years until they found a suitable plot. They paid £1,000 pound for it and Temple Hill was established. The first burial took place on the 6th of the 3rd month in 1860.
The Quaker community has always been quite small in Ireland. Even today there are only 1,500 Quakers in the whole or Ireland. It would take until 1923 for the first register to be full after 954 interments.  The second one is still going.
Quaker burial grounds are quite different from the Catholic ones Below you can see some photos. If you click on the picture you can see a larger image an explanation. 
We hope you enjoyed these photos and their stories. Why not have a look at the rest of our website?