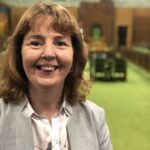 Accredited Genealogists Ireland (AGI) is a representative body for professional genealogists in Ireland. It has been in existence since 1986. You can't just join it, anyone* wishing to become part of the organisation will first need to apply to become an "Affiliate". Affiliates who meet certain criteria will have a chance to become a full member in due course.
The initial application is assessed by an independent Board of Assessors and includes proof of experience and a case study.
Jillian decided to start this process and has now cleared the first hurdle:


* Membership is open to professional genealogists based on the island of Ireland, who are not engaged in full-time work outside of genealogy and whose research is mainly in Irish sources.
Genealogy.ie believes that your family story is not just about names and dates of people in your family tree. We think it is also about the places where they lived and worked, the houses they lived in. This is why, when we search Irish ancestry for our clients,  we  also offer Irish local history research and investigation. In most cases our research is into the history of a house or farm. But it can also be a village or even an event. Depending on records available this gives you a picture of how your ancestors would have lived. And thus add colour to your Irish family history.
Take Marlay House. Up to quite recently it was a large demesne (mansion house which was also a working farm, albeit a large one). Watch our short presentation:
MARLAY HOUSE
Marlay as a land holding traces its origins back to the Anglo-Norman times. The Fleming family were the first owners, followed by by the Cistercian religious order. Religious orders were the biggest landowners at the time. King Henry VIII abolished them and resold the lands he took. The new owner was called Taylor.
He build the older farmhouse, a large part of it still in existence (courtyard). It was then bought by a series of families who used the property as their 'out of town' refuge. Living in the growing city of Dublin was unhealthy. Therefore rich families bought farms and lands and constructed mansion houses in the immediate environs of the city. The area around Marlay was very popular as it was at the foot of the Dublin and Wicklow mountains. This not only had fresher air but also offered stunning views. The first of these families built Marlay House.
This was actually the name of the wife of the owner, a bishop's daughter. His own name was LaTouche. His family were Huguenots who had fled France. They started as weavers but became a wealthy banking family. After a few different families had owned the property, the last of them, the Tedcastle family, sold it to the local council who has turned the gardens into a great public park and is in the process of restoring the house. This spring free tours are available to see the inside of the ground floor of the house.
We hope you enjoyed the video and story. Why not have a look at the rest of our website?